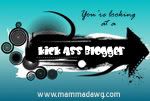 I am the proud recipient of The Kick Ass Blogger Award. It was given to me by Bobo over at
The Bobo Files
. The Bobo Files is one of my favorite sites and I go there as much as possible to soak up no-holds barred conservative commentary.
I am now responsible for passing this award to five other worthy blogs. Here are my five picks:
The Real World
: The Historian writes sharp and concise posts on conservative thought; always worth a visit.
A Disgruntled Republican
: Rod Williams gives his readers his take on politics from a, well, disgruntled Republican. Always an interesting read.
Shaving Leviathan
: One of the best written blogs advocating limited government. You must visit this site.
Brazoscowgirl
: I just love reading Kathy's posts. Great stuff.
Freaky Fugalite
: The blog is aesthetically pleasing and the posts are fun.
Congrats to all!
The rules for passing this award on:
--Choose 5 other bloggers that you feel are "Kick Ass Bloggers"
--Let 'em know via : - your post. b) an email c) Twitter d) blog comments. e) e-card
--Link back to both the person who awarded you and also
Mamma Dawg
--Visit the
Award HQ
, to get codes and sign Mr. Linky then pass it on!